SUN Micro Tech is one of the most trusted & leader of MICRONISATION Services Provider for the API and Bulk Drugs at Manjusar in VADODARA,Gujarat,INDIA.The facility is approved FDA standards with more than 4000sqft. We have a vide experiences in this field.SUN Micro Tech Mission is to advance Particle Size Reduction Technology to benefit the needs of the Pharmaceutical Industries.
SUN Micro Tech Prompt customer services and most important for our strong business ethics. We have supported by a dedicated team of highly qualified and well experienced individuals who are trained very well to understand the entire process and the needs of the customers. SUN Micro Tech Micronisation unit is one of the largest Micronisation plant in India. We take up most care for quality product. We have effective system and cleaning procedure which never allow contamination/cross contamination of the product. We offer consistent reliable and cost effective contract MICRONIZATION services for your small quantity up to large volume routine production.
Why we are best in Micronization?
We use Air Jet Mill to micronize the particles.
Jet Milling Systems Powder Particles are feed into flat circular milling chamber through a venture by pressurized air. The powder particle accelerates in spiral movement inside milling chamber. During spiral movement particles collide with each other and reduce themselves by attrition and collision. Some high velocity of air used for milling, hence no heat generation. Therefore jet milling is also suitable for sensitive and low melting point materials..
Experienced Staff
We take pride in working with the staff that is expert and experienced in working a micronization plant, knowing all the protocols and standards to deliver the top-notch quality particles for the industries.
Large GMP Area
At Sun Microtech, we work by following all the guidelines of Good Manufacturing Practices along with a large facility and space for the production and management of the micronization plant.
Approved FDA Standards
Sun MicroTech follows all the guidelines stringently and produces the particles that are approved by the FDA. We exclusively use standard techniques to provide the best ingredients for formulations.
Assured Quality
All the micronized API particles produced at our facility are free of contaminants and have a premium quality to match the industrial standards of all the pharmaceutical companies.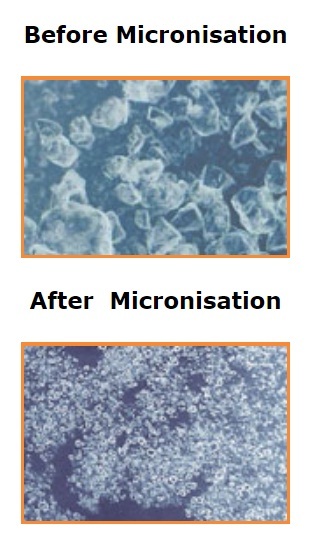 Let's get in touch!
We assure you the best all or in "OPPORTUNITY" to prove we can deliver.